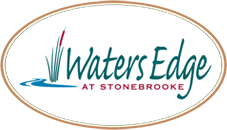 Fine Tune Your Game or Get in a Quick Round!
Designed By Tom Haugen and opened for play in 1989, Stonebrooke's 9 Hole Par 30 Waters Edge Executive Course is located across the street from Stonebrooke's 18-hole Championship Course. With many of the natural features of the Championship Course, Waters Edge is a great course to fine-tune your game or to get in a quick round. It's also the perfect place to teach kids the game, or just enjoy a family outing.
Tee Times are first come, first serve. For more information, please call (952) 496-3171, ext 4001.
Scorecard & Ratings
Blue: 28.1/89 • White: 27.4/86 • Red: 27.3/83